In the fast-paced world we live in, it can be challenging to find time for self-care and pampering. However, with the rise of the professional facial steamer, you can now bring the joy of the spa experience to the comfort of your own home.
These innovative skin care tools offer a host of benefits for your skin and overall well-being. In this article, we will explore the importance of facial steamers in creating a home spa experience and highlight the top 5 professional facial steamers for 2023 that will leave your skin feeling fresh and refreshed.
Importance of Facial Steamers for Home Spa Experience
Facial steamers have become an essential tool for those seeking the ultimate spa-like experience in their own homes. By delivering a gentle and consistent stream of warm vapor to your face, facial steamers help to open up your pores, promoting deep cleansing and detoxification.
This process not only removes impurities and excess sebum but also allows your skincare products to penetrate more effectively, maximizing their benefits.
Benefits of Regular Facial Steaming
Facial steaming offers a multitude of benefits for your skin. Firstly, it helps to enhance blood circulation, promoting a healthy glow and improving overall skin tone. The steam also aids in hydrating and moisturizing the skin, leading to a more plump and youthful appearance.
Additionally, regular facial steaming can help to alleviate congestion and unclog pores, reducing the occurrence of acne and blackheads. It also assists in the removal of dead skin cells, revealing a smoother and more radiant complexion.
Understanding Facial Steaming
Facial steaming involves the application of warm steam to the face, typically through the use of a specialized device. This steam helps to soften the skin, allowing for better absorption of skincare products and deeper cleansing of the pores.
It is a popular spa treatment that has been widely recognized for its ability to boost skin health.
How Does Facial Steaming Benefit the Skin?
The warm vapor from facial steamers works by dilating the blood vessels, promoting increased blood circulation to the surface of the skin. This increased blood flow brings oxygen and nutrients to the skin cells, resulting in a healthy and radiant complexion. Furthermore, the steam softens the skin, making it more receptive to the benefits of serums, moisturizers, and other skincare products.
Different Types of Facial Steamers
In the market today, various types of facial steamers are available to cater to different preferences and needs. Traditional steam bowls or pots offer a more traditional approach to facial steaming, with their simplicity and ease of use.
On the other hand, handheld facial steamers offer convenience and portability, allowing you to enjoy a steam session anywhere, anytime. For those seeking advanced technology, nano-ionic steamers provide ultra-fine steam particles that deeply penetrate the skin for optimal hydration and cleansing.
What is the best professional facial steamer?
Our Top 5 Best professional facial steamers in 2023 (Comparison)
The Fifth on our list of the best facial steamers comes the Amconsure Facial Steamer. This device brings the spa experience to your doorstep with its powerful mist and remarkable hydration capabilities. You can enjoy a relaxing facial in the comfort of your own home in just 12-15 minutes.
This is the versatile facial steamer that provides professional grade skin care by unclogging your pores, reducing acne and blackheads, reducing blemishes and boosting skin's metabolism, resulting in a more translucent complexion.
This facial steamer is made of nano-ion technology, thanks to which this steamer ensures deep penetration and effective moisturization into each layer of the skin, leaving you feeling confident and radiating the beauty from within. This facial steamer is very easy to operate, because of its user-friendly one-button design.
Additionally, the automatic shut-off function adds an extra layer of safety and peace of mind, allowing you to fully immerse yourself in the experience. The Amconsure Face Steamer also features a stylish design, which makes it a perfect gift for your loved ones.
What's more, you get the inclusion of brushes and hairband in this facial steamer that adds convenience to your beauty routine, making it even more enjoyable. In short, this facial steamer is perfect for anyone who wants spa-like benefits in the comfort of their own home.
This facial steamer provides deep hydration, so you can achieve a smoother and more refreshed complexion. So pamper yourself and elevate your beauty routine with the Amconsure Facial Steamer.
Powerful Misting Function: It has a super strong mist and deep hydration for a spa-like facial.
Multifunctional: It is multifunctional with the ability to open pores, reduce acne and blackheads.
User Friendly: It features easy one-button operation and automatic shut-off function for convenience and safety.
Fairly Small Tank Capacity: Its 3.5-ounce tank requires frequent refilling during long sessions.
The Amconsure Face Steamer is ideal for individuals who want a convenient and effective way to hydrate and revitalize their skin at home.
Fourth on our list of Professional Facial Steamers is the Colorfarm Facial Steamer. Here we have a valuable addition to your skin care regimen, which offers multiple benefits for achieving healthier and more radiant skin. It includes nano-ionic steam technology and purifying light function.
This steamer effectively purifies and moisturizes the skin, leaving your skin feeling fresh and invigorated. This facial steamer with its remarkable 20X penetration power, whose steam reaches deep into the skin providing optimum hydration and nourishment for a rosy and delicate complexion.
It has a 15-minute golden time feature perfectly tailored for skin care, striking the ideal balance between duration that protects skin from damage and ensures sufficient moisture. With this facial steamer, you can enjoy professional-level facial care from the comfort of your own home.
The Colorfarm Facial Steamer effectively addresses multiple skin problems and enhances the absorption of your favorite skin care products. Its noise-free operation enhances overall relaxation, reminiscent of a luxurious spa experience.
Safety is also a top priority with The Colorfarm Facial Steamer. It's rigorously tested and has earned UL certification, guaranteeing peace of mind during every use. With this tool, you can upgrade your skin care routine and unlock the benefits of a spa-quality treatment from the comfort of your own home.
Powerful Moisturization: It has the ability to penetrate the skin 20 times more effectively. This steamer ensures deep hydration and nourishment.
Efficient Run Time: It has a duration of 15 minutes which strikes a balance between adequate hydration and avoiding skin damage.
Certified as Safe: It has been tested and received UL certification, giving users assurance of its safety and reliability.
Limited Usage: It primarily focuses on delivering nano-ionic steam and does not provide additional functionality.
The Colorfarm Facial Steamer is ideal for those who want to use nano-ionic technology to improve their skin.
The third product in our list of Professional Facial Steamers is the Microderm GLO Facial Steamer SPA+. This facial steamer is the best solution to get clear and glowing skin in the comfort of your own home. It offers a game-changing beauty trick with its warm nano Ionic Mist, which works wonders to deeply cleanse, hydrate, and purify your skin.
You'll get a glowing complexion and visibly smaller pores as a result that will make you feel absolutely fabulous. Don't just take our word for it, dermatologists highly recommend this steamer. It comes with a lifetime warranty, which guarantees both results and your satisfaction.
Say goodbye to dull and lifeless skin with this facial steamer. Your skin will be transformed as soon as you use this facial steamer as it will become softer, more hydrated, and thoroughly purified. It is powered by incredible Nano Ionic Steaming Technology so you can experience the magic of a spa-grade facial steamer treatment.
By using it, you can get salon-quality results without spending a fortune and enjoy glowing, hydrated skin in minutes. This unit stimulates blood flow and opens your pores, creating the perfect canvas for maximum absorption of your favorite skin care products.
Imagine the power of peptides, serums, moisturizers and creams working their magic on your revitalized skin. After just one treatment, you'll notice a remarkable difference, with smaller pores, softer skin, and an overall cleaner and healthier appearance that will leave you feeling more confident than ever.
Investing in The Microderm GLO Facial Steamer SPA+ means you're embracing the wonders of scientific skin care. This is your ticket to enjoy the brightening effects of increased blood flow and improved product absorption. Once you experience the transformative benefits of this facial steamer, you'll wonder how you ever lived without it.
Effectively Hydrates Skin: It hydrates and purifies the skin, leaving it radiant and clear.
Increase Blood Flow: It increases blood flow, opens pores, and provides 320% deeper hydration.
Effortless to Use: It is simple to operate with one-button functionality.
A little noisy: Sometimes the operation of the steamer can be a bit loud.
The Microderm GLO Facial Steamer SPA+ is perfect for individuals seeking an affordable at-home spa experience with deep hydration, purification and clear skin benefits.
The second product on our Professional Facial Steamer list is the Vanity Planet Aira Ionic Facial Steamer. This next facial steamer is an absolute must-have for your skin care regimen. It elevates your routine to a spa-like experience and is suitable for all skin types offering a range of benefits.
This facial steamer, through its ion generator, enriches the steamer water molecules, and thereby provides deep penetration that thoroughly cleanses and detoxifies your skin. You have complete control over your steaming experience with the adjustable nozzle and 85ml water tank, allowing you to customize the level and duration of steam to suit your preferences.
By adding the Vanity Planet Aera Facial Steamer to your routine, you can increase blood circulation, clarify your complexion, and maximize the effectiveness of your beloved skin care products. And that's not all, this steamer comes with essential oil baskets, adding a touch of luxury to your experience.
All you have to do is fill its basket with your favorite oil, and let the soothing aroma enhance your relaxation. The Vanity Planet Aira Ionic Facial Steamer delivers outstanding results, whether you want to look moisturized and soft or indulge in a self-care spa session within the comfort of your own home.
You can get the optimal benefits of using a steamer for 15 minutes a day, 2 to 3 times a week. For home spa days, it's pretty hard to beat this comprehensive tool.
Effective Cleaning Action: It features an ionic steamer system that effectively detoxifies and cleanses the skin, removing impurities and promoting a fairer complexion.
Adjustable Nozzle System: It features an adjustable nozzle that allows you to customize the level of steam as per your preference and needs.
Aromatherapy Option: It features essential oil baskets that enable you to incorporate soothing scents into your steaming session, enhancing relaxation.
Distilled water is needed to reduce maintenance: It is recommended to use distilled water to prevent mineral build-up as it is difficult to clean.
The Vanity Planet Aira Ionic Facial Streamer is ideal for individuals with all skin types who want an easy way to give themselves smooth, glowing skin in just 15 minutes.
Last on our Professional Facial Steamer list, the top facial steamer is the Daily Care NanoSteamer Clinical facial steamer. This facial steamer is truly in a league of its own when it comes to facial steaming at home. It offers clinical-grade treatments that replicate the protocols used by skincare professionals, giving you the same luxurious experience without the need for expensive spa visits.
Using it not only saves you time, but also saves you money in the long run. What sets the Daily Care NanoSteamer apart is its dual-nozzle 360-rotation design, which provides unparalleled versatility.
Thanks to its dual-nozzle 360-rotation, you can enjoy your steaming session whether you are lying down, sitting or at different heights. This steamer caters to your needs, ensuring a personalized and truly magical spa experience. but that's not all. This device's Smart Steam technology takes facial steaming to a whole new level.
It provides 10 times more power and effectiveness than ordinary steamers, deeply hydrating, moisturizing and cleansing your skin. Best of all, it enhances the absorption of your favorite skin care products and maximizes their benefits.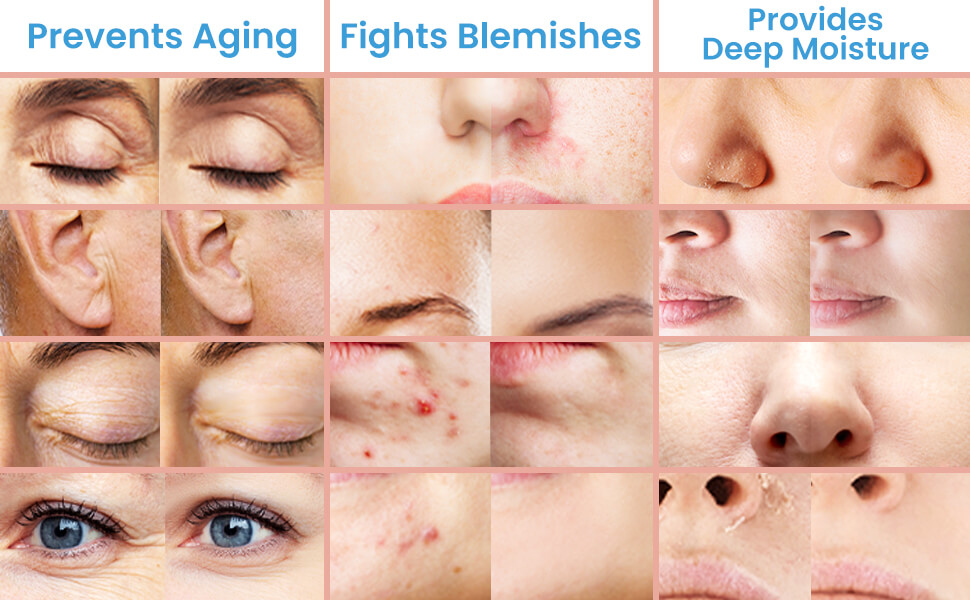 With six pre-programmed clinical modes displayed on the digital LCD screen, addressing specific skin concerns such as dryness, oiliness, aging, and breakouts, you can achieve fast and easy results without any irritation or dryness.
This facial steamer comes with six pre-programmed clinical modes displayed on the digital LCD screen that address your specific skin concerns like dryness, oiliness, aging and breakouts, giving you fast and clean results without irritation or dryness. You can get easy results.
As a bonus, like the previous facial steamer, this one also offers aromatherapy capabilities, allowing you to infuse herbs, flowers, and oils for a truly luxurious and customized treatment experience. Don't forget the included stainless-steel extraction set, which ensures safe and gentle removal of whiteheads, blackheads, and blemishes.
It's no wonder this steamer is the perfect gift for home users and professional estheticians alike. Experience the wonders of professional-grade skincare right in the comfort of your own home and be ready to transform your skin care routine and take your self-care rituals to new heights.
Very High Quality: It is very well engineered to provide the best facial steaming experience at home.
Versatile Treatment Option: It offers versatile treatment options, allowing you to steam your face from different positions and angles.
Advanced Technology: It has smart steam technology that generates advanced ionic steam that deeply hydrates, moisturizes and cleanses the skin.
User Friendly Operation: It is easy to use. It has 6 pre-programmed modes and a clear display.
Require More Storage Space: This is a fairly bulky facial steamer compared to others on this list.
The Daily Care NanoSteamer Clinical Facial Streamer is a great choice for any skincare enthusiast. Its wide range of features and excellent build quality make it suitable for daily use for those who want to dramatically improve the health and appearance of their skin.
The Rise of Professional Facial Steamers in 2023
A. Trend Towards Home Spa Treatments
The year 2023 has seen an increasing trend towards home spa treatments, driven by the desire for convenience, cost-effectiveness, and personalization. People are realizing that they can create a spa-like experience without leaving their homes, and professional facial steamers have become an integral part of this trend.
These innovative devices are designed to replicate the spa experience and offer exceptional results, making them highly sought after by skincare enthusiasts around the world.
B. Advancements in Professional Facial Steamers
The advancements in professional facial steamers have revolutionized the way we care for our skin at home. These devices now feature state-of-the-art technology that ensures optimal steam temperature and consistency, allowing for a safe and effective treatment.
With improved designs and materials, they also offer enhanced durability and ease of use. Moreover, many professional facial steamers now come with additional features such as aromatherapy capabilities, allowing you to enjoy a soothing and refreshing experience.
C. Why Investing in a Professional Facial Steamer is Worth it
Investing in a professional facial steamer is worth every penny for those who value their skin health and the rejuvenating effects of a spa experience. These devices provide a level of quality and effectiveness that surpasses their non-professional counterparts.
By incorporating a professional facial steamer into your skincare routine, you can enjoy the benefits of regular facial steaming without the need for expensive spa visits. Additionally, these devices offer long-term cost savings and convenience, making them a worthwhile investment.
Tips and Techniques for the Perfect At-Home Facial Steam
A. Preparing the Skin for Steaming
Before beginning a facial steam session, it is important to prepare your skin to maximize the benefits. Start by cleansing your face thoroughly to remove any dirt or makeup residue. Follow this with a gentle exfoliation to eliminate dead skin cells and enhance the steam's effectiveness.
Lastly, ensure that your hair is pulled back to prevent any interference during the steaming process.
B. Choosing the Right Essential Oils or Herbs
 To enhance your at-home facial steam experience, consider incorporating essential oils or herbs into the steam. Lavender, chamomile, and rosemary are popular choices known for their soothing and refreshing properties.
However, be mindful of any allergies or sensitivities you may have and perform a patch test before using any new ingredients.
C. Ideal Duration and Frequency of Facial Steaming Sessions
For optimal results, it is recommended to steam your face for around 10-15 minutes, ensuring the steam is not too hot to avoid skin damage. The frequency of your facial steaming sessions depends on your skin type and condition.
Generally, once or twice a week is sufficient for most individuals. However, those with oily or acne-prone skin may benefit from more frequent sessions, while those with dry or sensitive skin should steam less often to prevent excessive dryness.
D. Post-Steaming Care for Maximum Benefits
After your facial steam session, follow up with appropriate skincare steps to lock in the benefits. Use a toner to balance the skin's pH levels and tighten the pores. Then, apply a hydration-rich serum or moisturizer to replenish the skin's moisture barrier.
Lastly, do not forget to apply sunscreen as facial steaming makes the skin more vulnerable to UV damage.
Common Mistakes to Avoid When Using Facial Steamers at Home
A. Over-Steaming: The Risks and Consequences
While facial steaming offers numerous benefits, over-steaming can be detrimental to your skin. Prolonged exposure to steam can cause dryness, redness, and even damage to the skin barrier. It is essential to adhere to the recommended duration and frequency guidelines to avoid these potential risks and ensure a safe and effective treatment.
B. Incorrect Water Temperature and Its Effects
Using water that is too hot can lead to burns or scalds on the delicate facial skin. On the other hand, water that is too cold may not provide the desired effects. It is crucial to find the right balance and ensure the steam is comfortably warm, allowing for a pleasant experience without risking burns.
C. Using Unsuitable Facial Steaming Products
Not all facial steaming products are created equal, and using the wrong ones can have adverse effects on your skin. Ensure you invest in quality and reputable professional facial steamers that are specifically designed for home use. Using subpar or untested devices may not provide the desired results and can even cause harm to your skin.
Alternative Facial Steaming Methods to Consider
A. Traditional Steam Bowls or Pots
For those who prefer a more traditional approach, steam bowls or pots can be an excellent option. These simple yet effective tools can easily be found in most households and offer a cost-effective way to enjoy a facial steam session. Simply heat water in a bowl or pot, drape a towel over your head, and allow the steam to envelop your face.
B. Handheld Facial Steamers
Handheld facial steamers have gained popularity due to their convenience and portability. These compact devices are easy to use and provide a targeted stream of steam to the face. They are a great option for those who travel frequently or prefer a more streamlined skincare routine.
C. Nano-Ionic Steamers vs. Traditional Steamers
Nano-ionic steamers have gained attention in recent years for their advanced technology. By breaking down water molecules into tiny particles, these steamers produce ultra-fine mist that can deeply penetrate the skin.
This results in enhanced hydration and a more thorough cleansing experience compared to traditional steamers. However, both options have their merits, and the choice ultimately depends on personal preference and specific skincare needs.
Expert Tips for Customizing Your At-Home Spa Facial Experience
A. Targeting Specific Skin Concerns with Customized Blends
To address specific skin concerns, consider customizing your facial steaming experience with targeted blends. For example, incorporating tea tree oil can help combat acne, while adding rosehip oil can provide anti-aging benefits. Seek advice from skincare professionals or conduct research to discover the best ingredients for your unique needs.
B. Adjusting Steam Intensity Based on Skin Type
Understanding your skin type is essential for optimal results. Those with sensitive or dry skin may benefit from shorter steam sessions with reduced intensity, while individuals with oily or congested skin may require longer and more intense sessions. It is important to listen to your skin's needs and adjust the steam intensity accordingly.
C. Incorporating Other Spa-Like Elements into Your Routine
To enhance the overall spa experience, consider incorporating other elements into your at-home facial steam routine. Soft background music, soothing scented candles, or even a relaxing face mask after steaming can help create a truly indulgent and rejuvenating experience.
How to clean facial steamer?
Cleaning your professional facial steamer is an important step to ensure its longevity and maintain optimal performance. Regular cleaning helps remove any buildup of mineral deposits, dirt, or residue that may accumulate over time. Here are some steps to effectively clean your professional facial steamer:
Start by unplugging the facial steamer from the power source and allowing it to cool down completely.
Remove any attachments or accessories from the steamer, such as the water reservoir or steam nozzle, following the manufacturer's instructions.
Fill a sink or basin with warm water and add a gentle cleanser specifically designed for cleaning facial steamers. Avoid using harsh chemicals or abrasive cleaners that could damage the device.
Submerge the removable parts of the facial steamer in the soapy water and use a soft brush or cloth to gently scrub away any residue. Pay particular attention to areas where mineral deposits may have built up.
Rinse each part thoroughly with clean water to remove any soap residue.
For stubborn mineral deposits, you can use a mixture of equal parts white vinegar and water as a natural descaling solution. Soak affected parts in this solution for about 15-30 minutes before rinsing thoroughly with clean water.
Wipe down the exterior surfaces of the facial steamer with a damp cloth to remove any dust or dirt.
Allow all components of the facial steamer to air dry completely before reassembling them.
Once dry, reattach all parts according to the manufacturer's instructions and plug in your professional facial steamer.
By following these steps regularly, you can ensure that your professional facial steamer remains clean and hygienic, providing you with reliable performance for your skincare routines or professional treatments.
What are the benefits of nano ionic facial steamer?
The nano ionic facial steamer is a popular skincare tool that offers numerous benefits for your skin. Here are some of the key advantages of using a nano ionic facial steamer:
Deep Cleansing: The nano-sized steam particles emitted by the facial steamer penetrate deep into your pores, helping to remove dirt, oil, and impurities. This deep cleansing action can help prevent clogged pores, blackheads, and acne breakouts.
Hydration: The steam from the facial steamer adds moisture to your skin, helping to hydrate and nourish it. This can be especially beneficial for individuals with dry or dehydrated skin, as it helps to restore moisture balance and improve overall skin texture.
Improved Blood Circulation: The warm steam from the facial steamer helps to increase blood circulation in your face. This enhanced circulation brings more oxygen and nutrients to the skin cells, promoting a healthy complexion and a natural glow.
Relaxation and Stress Relief: Using a nano ionic facial steamer can be a relaxing experience that helps you unwind after a long day. The warm steam has a soothing effect on both your mind and body, reducing stress levels and promoting relaxation.
Enhanced Skincare Product Absorption: By opening up your pores and softening the top layer of your skin, the facial steamer allows for better absorption of skincare products such as serums or moisturizers that you apply afterwards. This maximizes their effectiveness in addressing specific skincare concerns.
Overall, incorporating a nano ionic facial steamer into your skincare routine can provide multiple benefits for healthier-looking skin – from deep cleansing and hydration to improved blood circulation and relaxation.
Do dermatologists recommend steaming face?
When it comes to skincare routines, there are various practices and techniques that people incorporate to achieve healthy and radiant skin. One such practice is steaming the face, which involves exposing the skin to steam in order to cleanse and open up the pores.
However, the question arises: do dermatologists recommend steaming the face?
While steaming can provide temporary benefits such as relaxation and a refreshed feeling, dermatologists have mixed opinions on its long-term efficacy for skincare. Some dermatologists believe that steaming can help soften blackheads and whiteheads, making them easier to remove. It may also aid in loosening debris from the pores, potentially reducing acne breakouts.
On the other hand, there are dermatologists who caution against excessive or prolonged facial steaming. They argue that it can lead to increased redness, irritation, and even exacerbate certain skin conditions such as rosacea or sensitive skin.
Ultimately, whether or not dermatologists recommend steaming the face depends on individual circumstances and skin types. It is crucial to consult with a qualified dermatologist who can assess your specific needs and provide personalized advice.
In conclusion, while some dermatologists acknowledge potential benefits of facial steaming for certain individuals, others advise caution due to possible adverse effects. It is important to consider your own skin type and consult with a professional before incorporating any new skincare practices into your routine.
Frequently Asked Questions (FAQs)
A. Can Anyone Use Facial Steamers at Home?
Facial steamers are generally safe for most individuals to use at home. However, those with certain medical conditions, such as rosacea or sensitive skin disorders, should consult with a dermatologist before incorporating facial steaming into their skincare routine.
B. How Often Should Facial Steaming Be Done?
The ideal frequency of facial steaming varies depending on individual skin type and concerns. As a general guideline, once or twice a week is sufficient for most people. However, it is important to pay attention to your skin's response and adjust the frequency accordingly.
C. Are There Any Risks or Side Effects to Be Aware Of?
When used correctly, facial steamers pose minimal risks. However, over-steaming or using excessively hot water can lead to skin dryness, redness, or burns. It is crucial to follow the instructions provided by the manufacturer and exercise caution during each session.
D. Can Facial Steamers Help with Acne or Blackheads?
Yes, facial steamers can effectively assist in the treatment of acne and blackheads. The warm steam helps to open up the pores, allowing for easier removal of impurities and excess sebum. Regular steaming can help to prevent clogged pores and reduce the occurrence of breakouts.
E. Can Facial Steamers Be Used with Sensitive Skin?
Facial steamers can be used with sensitive skin, but caution must be exercised. It is advisable to start with shorter steam sessions and lower intensity to assess how the skin reacts. If any discomfort or irritation occurs, discontinue use and consult a dermatologist.
F. Are Facial Steamers Suitable for All Ages?
While generally suitable for all ages, younger individuals should exercise caution when using facial steamers. Children should always be supervised during steaming sessions, and it is advisable to consult with a pediatrician before introducing facial steamers to their skincare routine.
G. During which stage of a facial procedure does steaming occur?
Steaming is a crucial step in the facial procedure that typically occurs after the initial cleansing and exfoliation stages. This stage involves the application of steam to the face, which helps to open up pores, soften the skin, and prepare it for further treatment.
Steaming is often done by using a facial steamer or by placing a warm towel over the face. The heat from the steam promotes blood circulation, allowing for better absorption of products and deeper cleansing of the skin.
Additionally, steaming can also be followed by extractions to remove impurities from clogged pores. Overall, steaming plays an essential role in enhancing the effectiveness of subsequent steps in a facial procedure and leaving the skin refreshed and rejuvenated.
Conclusion: Find the Best Professional Facial Steamer for Your Skincare Routine in 2023
In conclusion, when it comes to finding the best professional facial steamer for your skincare routine in 2023, two standout options are the Daily Care NanoSteamer Clinical facial steamer and the Vanity Planet Aira Ionic Facial Steamer.
Our top choice, the Daily Care NanoSteamer Clinical facial steamer, offers advanced nano-ionic steam technology that penetrates deeply into the skin for a thorough and effective cleanse. It also features a large water tank capacity and a convenient timer function. With its sleek design and impressive performance, this facial steamer is sure to elevate your skincare routine.
Another great option is the Vanity Planet Aira Ionic Facial Steamer. This steamer uses ionized steam to hydrate and rejuvenate the skin, promoting a healthy complexion. It also includes a separate aromatherapy chamber for adding essential oils to enhance your relaxation experience. With its compact size and user-friendly features, this facial steamer is a reliable choice for achieving radiant skin.
Ultimately, choosing between these two professional facial steamers will depend on your specific needs and preferences. Both options offer exceptional quality and functionality that can elevate your skincare routine in 2023.
Other Articles Related Home & Kitchens